Archives like CDDIS and SOPAC are great resources for accessing data from permanent GNSS stations using dual- or triple-frequency receivers. There is however a lack of publicly available single-frequency data sets to improve the development of processing algorithms aimed at low-cost receivers. For this reason, I decided to buy myself a little "toy" to collect my own data and, hopefully, get enough insights to benefit the precision, accuracy and integrity of these devices.
Inspired by the excellent rtkexplorer blog, I bought a u-blox NEO-M8T receiver and a cheap patch antenna, selling for 75$US and 20$US, respectively, at the CSG Shop (see figure below). The u-blox chip comes with an antenna connector and a small USB plug. The setup would not be complete without a USB to small USB cable to connect the board to the computer, but I used one I already had at home from my Nikon camera (otherwise, you can buy one for 5$US). No battery pack is needed since the devices are powered directly by the computer. The antenna also has a magnet to hook it safely to the roof of your car. While this setup is perfect for a GNSS techie like me, it is not quite adequate for "real" field work, and commercial low-cost integrated systems with a weather-proof enclosure, batteries and a radio link would definitely be a more suitable option.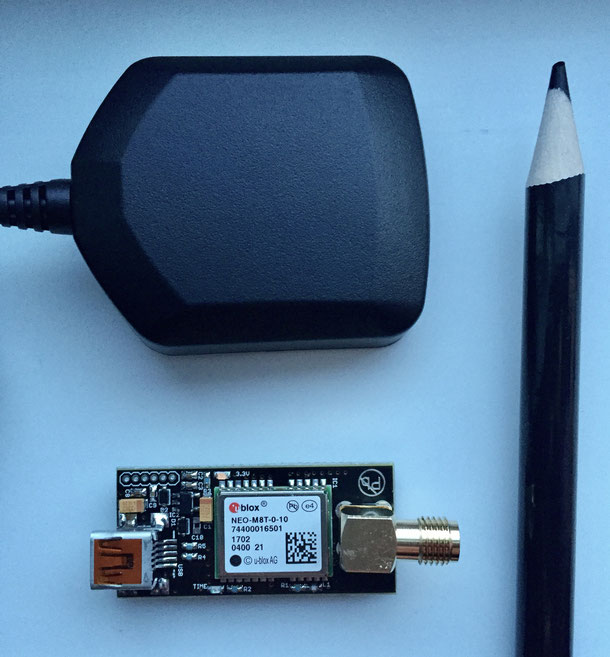 The NEO-M8T is in fact a timing receiver and it can provide access to raw measurements on L1 (carrier-phase, pseudorange, Doppler) for GPS, GLONASS, Galileo, BeiDou, QZSS and SBAS. However, out of the box, it was configured to track GPS and GLONASS only. To access the raw data, a simple way consists of downloading u-blox's u-center, a free software for configuring and analyzing u-blox data. After connecting the board to your PC, go to the Receiver -> Port menu, and select the COM on which the board is connected: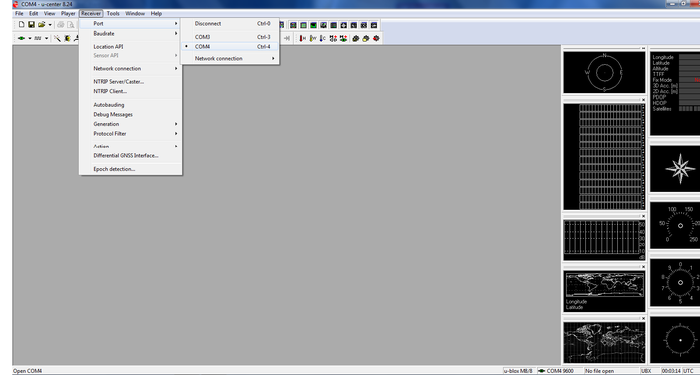 You then need to configure which messages the receiver should output. To do this, select the View -> Message View menu. Since I am only interested in raw measurements, I disabled all messages but the RAWX message, which now appears in bold: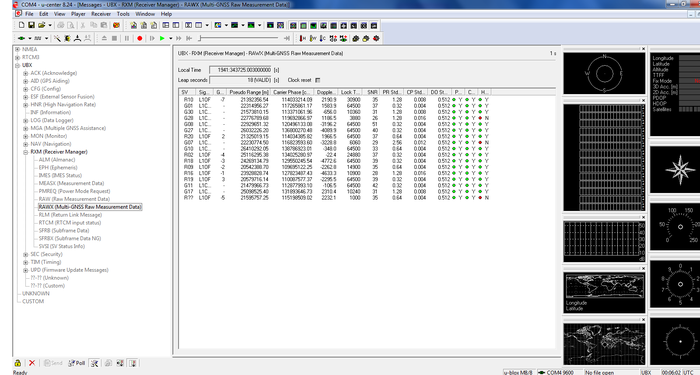 On the right panel, you can see the numerical values for the raw measurements of GPS and GLONASS satellites. Saving these values to the u-blox binary format can be achieved by pressing the "record" button.
Currently, u-center does not support a direct conversion from binary to RINEX. For this purpose, RTKLib was supposed to do the trick, although running the RTKCONV binary from the 2.4.2 release did not work for me. The source code of version 2.4.3 is available on GitHub but not the binaries. Instead of compiling the source myself, I opted for the "demo5" binaries provided on rtkexplorer. Selecting your u-blox binary file and hitting Convert will then provide the RINEX file: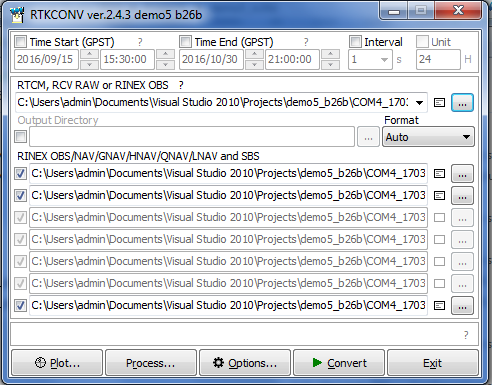 Now that I can get raw measurements from my u-blox, it is time to take it outside... stay tuned!
---
---