As a kid, there were stories I liked to hear over and over again. I guess it's not all that different as an adult: the story of how GPS came together is always an entertaining read. In "Pinpoint: How GPS is changing technology, culture, and our minds", author Greg Milner gives this story a new spin, with a novel-like narrative and an extended list of familiar characters. Overall, a very interesting read that every geodesist deserves under its Christmas tree!
The recollection of early navigation initiatives in the first chapter, such as how Polynesians navigated the sea hundreds of years ago, offered a little bit more details than I had wished for. However, I trusted the recommendation of Pierre Héroux, who enjoyed the book enough to buy 5 copies to pass around the office. And Pierre was right: the book contains countless memorable stories of well-known people in the field of geodesy. Here are a few examples that I found especially entertaining:
Hewlett and Packard spent about 800,000$ developing a GPS receiver in the late 1970s before passing on taking it to the market, preferring to focus their activities on the personal computer instead. Charlie Trimble, who was working for HP at the time, decided to start his own company and eventually bought the rights to the GPS project started at HP.
One of the first engineer at Trimble was Javad Ashjaee, who joined the company after fleeing Iran and momentarily leaving behind his wife and two daughters because he was fearing for his life after criticizing the Ayatollah Khomeini and the chilling effect the Islamic Revolution had on academic freedom. As we know, Ashjaee did not stop being outspoken in the GNSS world, with Ashtech's "Kiss Your AS [anti-spoofing] Goodbye" corporate ads. He also left Ashtech to form Javad when his partners worried that a continued GPS/GLONASS collaboration would negatively affect attempts to take the company public since supporting GLONASS was seen as an unpatriotic act in the US.
There was also a fierce competition in the early days of high-accuracy GPS receivers. In January 1984, three teams (presenting the Macrometer, the Rogue and the TI-4100) engaged in a "shootout" to determine the best receiver. The highlight of this experiment was mainly the MIT group claiming that the TI-4100 was emitting radiation that jammed their receiver. Chuck Counselman ended up calling one of the Texas Instruments member a "fat, waddling pig."
Jamming turned out to be a more serious issue in the years to come, causing problems with GBAS at Newark Liberty airport where the system would often take itself offline. The problem, it turns out, originated from the Turnpike, with people driving around with GPS jammers in their cars or trucks. On August 4 2012, an arrest was made and Gary Bojczak was fined over 40,000$, sending a clear message that the privacy bubble could come at a cost. With stories of jamming also come stories of spoofing. Speaking of Todd Humpreys spoofing a commercial drone in June 2012 in front of government and military officials, Nunzio Gambale of Locata adds: "The military hates Humpreys. He used to be a magician, so he's got the chutzpah. And the balls."
Milner also interviewed several other prominent figures of geodesy, namely Kristin Larson, Yehuda Bock, Per Enge, Sam Pullen, Tom Herring, and many more. The book is definitely a good summary of the past and current status of GPS and its numerous implications in our society. And there is still time to order it before Christmas!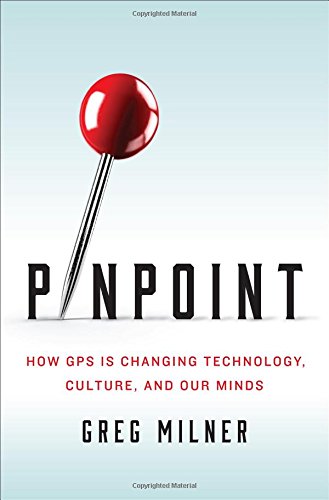 ---
---